I've been a bad, bad girl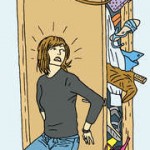 Yes, I haven't been writing here much. Just like everyone else, my life is crazy this time of year.
My hubby just changed jobs (and now doesn't have to commute to another city), and moved all of his stuff home from a tiny apartment where he stayed during the week. I have had to make room in closets for his stuff, and for me, that task is momentous! I mean, I need a closet for nightware (although I don't sleep in any of it) and one for outdoor coats and jackets, one for blazers and sweaters and the like, one for pants, one for skirts, and one for boots. I live in an eighty-year old house, and closets are small and few, so you can imagine what I've been going through.
My word count is actually lower because I recently cut some parts out of my manuscript pretty
radically
. I really like my old couple characters, whom I'm writing about now.
And their house(s).
I'm still worried, though, and trying to determine if my book really works as a romance.
It's different than the romance books I have been reading as research.
I don't think my characters 'think' at each other as much as in most of those books.
I like that, but will readers?
Can't wait for my February RWI meeting (Jan's meeting is the day of the
I'm giving for my stepson's graduation from law school
so I can't go), when I intend to submit some chapters for critique. I love meeting all these women who are as passionate about books as I am.
I'm doing my best to decorate my house more beautifully than ever (Just had a long comparison of techniques with the girl who cuts my hair this morning). Right now, my house a bit of a mess, with Christmas decorations that haven't found their home yet laying around, but by the end of this week, it will look very good...I hope.
And my son is coming home from college in five days. Yay! I just realized that now I can count down in days, not weeks!!
Well, how's your Holiday going?