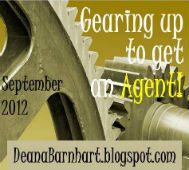 Where do you write?
I write at home, on my boat, and even sometimes (don't tell my boss) at work
Quick. Go to your writing space, sit down and look to your left. What is the first thing you see?
A magnetic poetry wall with some Haikus and hundreds of words to create more.
Favorite time to write?
Anytime I have a few minutes free
Drink of choice while writing?
Coffee in the morning. Water and iced tea at other times.
When writing, do you listen to music or do you need complete silence?
I like silence when I write--Occasionally vocal-free music. I really should be listening to some Dean Martian and Edith Piaf as I write this one. Both would be in the sound track for the movie....
What was your inspiration for your latest manuscript and where did you find it?
Oh so many places. I love wooden boats and Grand Lake. That's the setting. I actually started out wanting to write about my hero and heroine's parents and their love affair, back when Grand Lake was really grand, at the peak of the oil boom, but it seems that era-60s-is not a popular time for romance books. It's not long enough ago to be interesting, so I told the story of a pair of lovers who did not end up together, but their children who did.
What's your most valuable writing tip?
I learned so much from my RWA group, before I had to leave it, then it broke up. When I edit parts of my WIP I wrote before then, I have much, much more work to get it up to par. The story is still there, but dialog tags, adverbs, etc. litter it. I truly wish I was still involved in that kind of writers' group, So if you have one near you, take advantage of it.